Date: Thu, 19 Aug 2004 11:18:55 +0000
From:
harri_99@jumpy.it
Subject: From; Harrison.
FROM HARRISON T.KABBAH.
ABIDJAN, COTE D' IVOIRE.
WEST AFRICA.

DEAR,
MY NAME IS (HARRISON T.KABBAH) NATIONALITY SIERRA LEONE. I AM 25 YEARS OLD STUDENT, I STUDY MARKETING IN BUSINESS ADMINISTRATION IN THE UNIVERSITY. I LOST MY FATHER YEARS BACK HE DIED DRURING THE POLITICAL CRISIS IN MY COUNTRY.
MY LATE FATHER WAS ONE OF THE DIRECTORS UNDER CHARLES GWADABE GOVERNMENT. MY MOTHER IS AGED SHE IS 62 YEARS NOW. I HAVE ONE YOUNGER SISTER WE ARE ALL LEAVING IN COTE D'IVOIRE SINCE PAST SIX MONTHS. IT IS MY DESIRE TO WRITE YOU FROM MY HEART HOPING THAT YOU WILL NOT BETRAY US. MY FATHER DIVERTED SOME HUGE SOME OF MONEY WHICH HE DEPOSITED WITH ONE BANK HERE WHEN HE WAS ALIFE. IN FACT IN A BRIFE INTRODUTION ALL THE INFORMATION WILL BE GIVEN TO YOU WHEN I HEAR FROM YOU. THE MONEY IN QUESTION IS US$16,000,000.00 (SIXTEEN MILLION UNITED STATES DOLLARS )NOW WE ARE SEEKING FOR A TRUSTED PERSON WHO WILL RECEIVE THIS MONEY INTO HIS / HER ACCOUNT FOR ONWARD INVESTMENT.
HOWEVER, WHAT WE NEEDED FROM YOU IS YOUR GOOD ASSISTANCE IN HELPING US TRANSFERRING THE SAID SUM TO YOUR ACCOUNT SINCE WE ARE INEXPERENCED THE WORLD OF BUSINESS, THAT'S THE REASON WHY WE ARE ASKING FOR YOUR SUPPORT. ALL DOCUMENTS CONCERNING THE DEPOSIT MAY BE GIVEN TO YOU FOR YOUR VERIFICATION. WE REALLY NEED TO MOVE THE FUND OUT OF THIS COUNTRY TO ABROAD.
I AND THE REST OF MY FAMILY HAVE DECIEDED TO GIVE YOU 10% OF THE TOTAL SUM FOR YOUR KIND ASSISTANCE. THE WORLD IS FULL OF BAD PEOPLE PLEASE CAN YOU PROVE YOUR GEUNUITY TO US FOR US TO HAVE YOU AS A PARTNER. SORRY I AM NOT SAYING YOU ARE BAD PERSON BUT CONSIDER THAT THIS IS MONEY AND HOW THE MONEY WAS GOTTEN. IT IS INHERITACE AND LAST HOPE.
SHOW YOUR INTEREST AND WE PROCEED ON THE NEXT STEP OF ACTION. AFRICA IS NO LONGER CONDUSIVE FOR US TO STAY.
OUR BEST REGARDS.
HARRSON T. KABBAH ON BEHALF OF THE FAMILY.
Dear Harri,
I don't usually respond to guys who write me on the internet, but you seem like a nice and sincere man. I am sorry for all your problems. I'm not sure what I can do to help, but I'll try.

I'm not sure how you got my name. How did you get my name? Anyway, I'm a 43 year old woman who is the mother of five boys. I am separated from my husband. He is a very bad man who ran away with a woman from Africa, I believe it was Ghana. I am very angry with him because of it. He has left me and the five boys to take care of ourselves. Before he left I had no skills and no job. But people would tell me often that I had pretty teeth and hair. So, I started going on dates with men and charging them money to have their way with me. So, that is how I support myself and my five boys now. I hope that you don't think less of me for it. A woman has to do what a woman has to do to survive.

So, if are kind enough to share some of your wealth with me, it would mean that I could quit doing this thing that I'm doing. I would also like to meet you in person some day, you sound like a very strong, noble and handsome man.

Tell me what to do.

Love,
Marie Osmond
Mummy Marie (I wonder if he thinks I'm all wrapped up in white cloth strips),
Good evening and thank you for your mail ,i and my mother my sister we are facing difficulties here but your life story really touch me i am a boy of 25 years old and i am here with my mother and my sister now in search of the bank where my late father deposited the money and luckily to me i was able to trace the bank and i have asked the bank for the release of the money to me and the bank said that my late daddy had an agreement which he signed with them wwhen he deposited the money in the bank ,mummy i have all the documents he signed with the bank both copy of the agreement the bank is talking about ,my late daddy according to the agreement indicated that the money belong's to his foreign partner and that is why i contacted you to help me and stand as our guardian and foreign partner to our late daddy ,mummy we are surffering here in the united nation asylum refugee camp here in cote d' ivoire please want you to help me out and talk to the bank for the release and transfer of the money to your account so that you can arrange on how i will come over there to start my education and continue good life.
Mummy, please i will need your home address your private telephone and fax numbers so that i can submit to the bank and introduce you as my daddy's foreign partner. thank you mummy hope to hear from you please extend my greetings to
your children there are my brothers.
thanks mummy,
Harrison for the family.
Dear Harri,
Thank you so much about caring for me and my family. Things are very difficult for us right now. We have no money and no food. I had to have trade sex for sandwiches on the street corner and dance naked in the bar at night to get money.

Please contact me through the following.
Marie Osmond
555 Elm St Apt #5
Ogden, Utah 84401
FAX number -1-661-885-XXXX

Harri, I will do anything for money or even sandwiches at this point. Can you help me honey pie?

Mummy Marie
Mummy,
Good morning today and thank you for your mail .i my mother and sister we feel for you please my mother is not happy because of what you practise in other to survive .and my mother asked me to tell you that the transaction will cost money how do we go about it because we don't have any money cash with us we are surviving by God's grace here but my mother said that if you can help us out to make the money transfered to your bank account in U.S. that both us here and your family will really enjoy it we shall live as one family over there.please mummy , my mother also said that if you can handle this transaction and stand as our late daddy's partner that you should reply back today so that she will instruct me to go to the bank and submit your information and introduce youas our daddy's partner .

please send your phone number as you reply back to us . thank you so much and nice to hear from you.
Harrison for the family.
Good news Harri! I think that I found your father. He is alive! I did some research on the Internet and this is what I found.

Ahmad Tejan Kabbah
From Wikipedia, the free encyclopedia.
Ahmad Tejan Kabbah (born February 16, 1932) is the President of Sierra Leone (1996-1997, 1998 - present). He worked for the United Nations Development Program, and returned to Sierra Leone in 1992. He was elected president in 1996. Most of his time in office was marked by a bloody civil war with the Revolutionary United Front, led by Foday Sankoh, which involved him being temporarily ousted by the army from May 1997 to March 1998, but he was returned to power after ECOWAS military intervention. Another phase of the civil war led to United Nations and British involvement in the country in 2000. The civil war was officially declared over in early 2002, and Kabbah went on to win another term in office in the presidential election later that year.
So, it appears that your father is alive and well and now the president of Sierra Leone. He didn't die in the civil war. Now you and your mother can get back and live with him. Congratulations. Good for you, bad for me. I'm sure that you won't be needing me now.
So, I'm back to making my living by laying on a mattress. If you ever come to America, I'll give you a free complimentary lap dance.
Love,
Marie
Harri,
Did you find your dad? Are you happy? Is your family back together? I didn't hear back from you after I wrote to you about finding your father. I thought I was helping you. Are you going to toss me aside like a used snot rag now? Are you just another user like every other guy I know?

Marie
Mummy,
Good morning today is saturday morning here and we are experienceing cold weather, mummy your last mail wasn't good you sound so unpolitely way and when i told my mother here she felt so bad and asked me not to write you again .but when i was your mail i went to inform her and she asked me to send you mail and ask you if you can handle the transactionor not? please we are not here with our daddy i told you my daddy is late we are here with our mother and we are finding things very difficult please mummy we really need your help to get this money release and transfer to your account. mummy, how is my step brothers and sister over there ?hope they are all fine please extend my greetings to them tell them we shall be with them very soon and live as one family.
thank you mummy hope to hear from you,
Harrison.
Harri,
Greetings to you and your family. I didn't mean to sound unpolitely in my last e-mail. I was just excited because I thought that I found your father for you. Now I am so confused. Is your father alive or not? If he is alive, why does he not come home to his family? I thought you would be happy that I found him. I thought he might give me a reward for finding you. But you do not sound very happy. Is your mother happy or not? Maybe she didn't like him very much?

But whatever it takes to help you out, we will do. I will work an extra shift at Lace nightclub to raise money. I will dance extra hard to get tips. I will have the boys skip lunch meal and just chew on some old leather that we have around here. How much do you need? How soon do you need it? We have an old saying in the Osmond family, "if Walmart has a sale on bananas, then get your toilet paper there too." Do you know what I mean Harri?

I can't wait to hear back from you. Can you send me a picture of you and your family so that I can show it to my boys and show them the people that we are helping out. I'm sending you my picture so you can see what I look like.

Love and passionate kisses,
Marie
Mummy,
Good morning and thank you for your mail , i have received your mail and i told my mumm here and showed heryour picture she was very happy and she asked me to send you our pictures .mummy Marie we are not angry with you the only problem is that we are surffering too much here as you can see our daddy is late and our mumm is sick here so we are surviving by his grace.
please mum if you receive the pictures and try and send us your bank account bank account information include phone number because my mummy said we need it so that we can submit them to the bank and introduce you as our daddy's partner .please mum marie we have puting our trust in you don't betray us please we are very happy both my mum when we saw your picture today you look innocent and nice my mummy said it.
thank you mum marie hope to hear from you,
Harrison for the family.
Prince Harri
Harri's Sexy Little Sister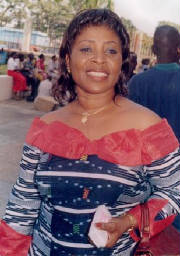 Harri's Mummy
Hey Harri,
Thank you so much for the pictures. You are one hot stud muffin! But you forgot to tell me that you were married, you bad boy. I see that ring on your finger (look for yourself). That tells me that you are married. I am so mad at you. Does your wife know about us? It's okay if she does because I don't mind sharing you. I really thought that maybe we could hook up here when you move to America.

Your mother and your sister are very beautiful women. I look forward to meeting them. Will they be coming to America with you? Maybe I could get them jobs where I work (as a stripper).

I want to introduce you to my five boys. I am sending you a picture of them. They are left to right, Jimmy, Billy, Bobby, Sammy and little Donny Jr. They need someone besides me to be their father. Sometimes I get a few dark hairs growing under my chin and they start calling me "dad". It's really sad. What they need is a real father figure with a real beard in their lives.

My bank is Zions Bank, 2302 Washington Blvd Ste 100 Ogden, UT 84401-1498. Their phone is (801) 393-9995. I'll let them know that you might be calling.

Your Love Goddess Mummy,
Marie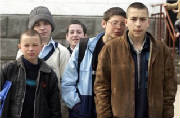 Five Little Hodlums Looking For A DAD!
Mummy,
Good day ,i was happy to see my step brothers picture and i took them to my mother and she was very glad although she is sick at the moment but she felt so happy .mum marie i am not married am only 21 years don't mine me about the ring ok .please we will be glad to come over there please we really need your help ,my mother said i shold go to the bank and submit application letter on your behalf and i have done that but you did not give us your phone number my mother said that is very necessary and the bank asked of it and i told them that i will bring it before tomorrow but the manager of the bank said that he will like to talk to you on phone in regards to this transfer of the money please mum marie call him now in his office his name is below.
Mr.dan abbey george.
manager bank of africa abidjan Cote d'ivoire.
telephone:0022 505 450 488 fax:0022 522 420 904
bank email address:(
infobankofafrica.ci@financier.com
)
please mummy after your discussion with the bank try and write us back to tel us i want to go back to see my mother and tell her that i have done what she asked me to do mum marie please extend our sincere greetings to my step brothers tell them we love them as well.
thank you ,
Harrison for the family.
Dear Mr. Dan the Banker Man,
I got your name from my love, Mr. Harri Kabbah. I'm not really sure what he wants me to do, but I decided to e-mail you. I can't call because I don't have long distance. Anyway I think Harri wants to give me some of his money. We may get married some day.

Harri's says his daddy is Ahmad Tejan Kabbah who is the president of Sierra Leone. Do you know him? Anyway, Harri says his daddy won't give the family any of the money he has in your bank so they have asked you go give it to me first and then I will give it to them. But they will give me $3.2 million (I doubled it just to see if they would notice), which seems a little low to me, but I'll go along anyway as a favor to the Kabbah family. They are really sweet people and I want to marry Harri someday.

My bank is Zions Bank, 2302 Washington Blvd Ste 100 Ogden, UT 84401-1498. Their phone is (801) 393-9995. My banker guy is Mr. Pee Wee Herman.

Hey, you don't think this money is like drug money or stolen money do you? If it is, I don't want to do this. Please let me know that this isn't going to get me arrested.

I desperately need some money because I am trying to raise five hungry boys on my own. They eat like horses on steroids if you know what I mean. I'd like to quit my job as a stripper and take care of them. Right now I I have to do nasty things with nasty men to make any money so I can feed and clothe them. Please help me! Help save my boys!

Love,
Marie Osmond
From:Mr.DAN ABBEY GEORGE.
Manager Bank Of Africa,
Abidjan Cote d'Ivoire.

To:Mrs.MARIE OSMOND.
Country Of Origin
United States Of America.

Madam,

SUB:BEQUEST FUND WIRE TRANSFER OF US$16,000,000.00 DOLLARS IN YOUR ZIONS BANK ACCOUNT AS THE TRUSTEE .

I acknowledge the receipt of your email letter and also want to use this opportunity to inform you that I have received an APPLICATION LETTER yesterday from the family of our deceased customer Late Mr.Kabba.

Please we will requested you to forward your first and second pages of your international passport to this office immediately or alternatively copy of your drivers liecence with your telephone number for is access to get to you direct,we have today programed your information to our central database computer system and as soon as we received this requested information the file of your partner will convey to the BANK SECRETARIAT OFFICE for an APPROVAL of the transfer with the MINISTRY OF FINANCE Cote d'Ivoire.

Furthermore,the bank has an agreement signed with the deceased the day he lodged the funds in our trust account but before we process for remittance of the funds to your bank account with ZIONS BANK we will requested you to REVALIDATE and AUTHENTICATE all the documentation related to this INVESTMENT FUND to your name as the only true beneficiary/trustee to Late Mr.Kabba.

Finally, I will be expecting your immediate call to my office on my number +22505450488 for a brief talk on this transfer.
I await your prompt response .

Cordially yours,
Mr.DAN ABBEY GEORGE.
Manager Bank Of Africa,
Abidjan Cote d'Ivoire
Dear Mr. Dan the Banker Man,
How are you today. I am waiting for my money and have not seen anything yet. Is there a problem? Mr. Harri told me that it would be very quick and easy. I don't know how you folks do banking there, but our banking is very good here. Do you have ATM's? How about a website for your bank? Can you do online banking? We have really cool bank stuff here. My personal banker is Mr. Herman.

Anyway, I hope your day is going good Mr. Dan. I'd love to see a picture of you sometime. Are you married? Are you a handsome man?

I'm sorry but I don't have a passport. I've never been out of the state of Utah, much less out of the country. So, I'm sending a copy of my drivers license and hope that helps you get the money to me. Let me know if you have any problems. If you need to know anything else about me, and I mean anything, please just ask.

Love,
Marie Osmond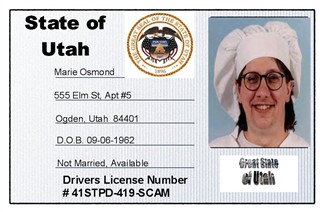 Marie with Chef Hat Drivers License
Dear Mummy.
Goodevening to you and how are things with you generaly, Mummy since your last mail to us we have heard from you. Are you in good health? why so silent with us at this point. please kindly reach with us because we have been so worried of not hearing from you.But Mummy what is the meaning of the subject of your last mail to us, which you said 'YOU RAT' Could you please explain to us more about this .
Thank you very' much.
Yours Sincerely.
Harrison for the Family.
Dear Harri,
I must confess. When I saw your picture, my heart was taken away. I was just beginning to fall in love with your sweet and gentle ways. You seem so sincere and so intelligent and such a gentleman.

So, when I said "You Rat", I was referring to the ring on your finger. I was falling in love with you and so I see a ring on your left finger which tells me that you are married it just broke my heart. I cried for three days. Are you really married. I was hoping that we could start something up when you come to Utah.

On the other hand, married or not, I am willing to take your money. I contacted Dan the Banker Man and I am working with him to make sure that the money gets sent to my account. It's a damn good thing. Last night I had to trade a round of anal sex with six men in exchange for a bucket of Kentucky Fried Chicken. I got the Kentucky Friend Chicken, but man is my ass sore today! I really don't want to have to do that anymore in order to feed myself and the boys.

Please let me know if you find me attractive. I would like to be your love slave when you come over to America. I have learned so much about sex where I work and I could teach you many things. I could rock your world!

Love and Sexy Passionate Kisses,
Marie Osmond
Dear Mummy,
Good evening and thank you mum marie ,please stop sounding like this to me i am still a teenager and we are christian .don't you know that GOD loves you ?why are you going about exposing your self to men ,my mummy use to tell my sister here that GOD has a purpose of creating women so you don't have to do any thing stupid just because you need money unless you are not the daughter of God .please i am not married am only 25 years but even if you want to marry me it has to be a discussion between both of us i know love dosen't count age and it dosen't count error please i only want you to pay attention to this transaction and make sure the bank transfer the money to your account so that you will arrange for us to come over there. please we are in need of your help i know you are not angry with my mail today ?if you do please am very sorry ok i love you and if i don't love mum i won't have asked you to stop this i care for you i took you as my mummy.
thank you hope to hear from you ,
Harrison.
Harri, for one thing you are not a teenager. If you are 25 years old you are a GOD damn man. So, start acting like one. I'm hot for you and you can't even accept it. I've had men half your age and they appreciated me. I may be 43, but I have a body that's hot as a pistol and I know how to use it. I don't have much else in life right now except for this body, so I might as well use it.

GOD doesn't take care of me. GOD doesn't pay my bills. GOD doesn't feed my five boys. GOD didn't stop my husband from leaving me. GOD didn't give me these silicon implants.

It is only me that can take care of me. Harri, I'm struggling to survive here. I have to support myself and my boys. Don't you understand. I suppose you've never been poor. You're a rich boy who's always had money so you probably don't understand.

There's another little secret that I didn't tell you earlier. I have the HIV. You're the only one I've told. My kids don't know and my family doesn't know. I only have so long to live, so I'm going to try and make as much money as I can selling my body to any willing man or woman, so that I can leave a little something behind for the boys when I go.

Harri, I'm sorry to bother you with this news and I'm not trying to use it to get your sympathy. I just want you to know that I've already accepted that I'm going to HELL for the way that I live, so please don't give me any lectures about it. I'm just trying to survive and give my boys something to live on when I go. Please understand Harri. I love you and wish that I could marry you.

I'm looking forward to getting notification of a deposit from Dan the banker man and thank you so much for agreeing to share some of your riches with me. My boys and I thank you from the bottom of my heart and GOD will at least smile upon you Harri.

Love,
Marie
Dear Mr. Dan,
I have contacted my banker man, Mr. Pee Wee Herman at Zion National Bank to inquire as to the deposit which we agreed upon. He informs me that he has received no contact from you and that no deposit has been made.

Is this some sort of joke? If it is, please tell me. I've been spending money on my charge card like crazy the past week thinking that I'm going to get some of this money. If this is a joke then you have put me in a very bad position, but of course I'm used to that in my line of work.

Sincerely,
Marie Osmond
Dear Mummy.
Good afternoon today and how are things generaly with you. i want to know the situation of things between you and the bank. please keep me in touch on how far you have gone with the bank.
Thank you very much.
Yours Sincerely
Harrison
Dear Sweet Harri,
I hope you and your family are well. I'm having a diffiicult time here. I got arrested by the police two days ago and had to spend every last bit of money that I had on bail to get me out. I just can't understand why the police would arrest me for trying to make a living with my body. No one is getting hurt. My customers are very happy and willing to give me their money. I am just so mad at the police here!

Anyway, I have checked with Mr. Herman at Zion Bank every day for the last week and still no deposit. I told him about you and Mr. Dan the banker. He told me to be very careful because he had heard of some bad people in Nigeria that were trying to steal money from American bank accounts. I assurred him that you are honest and honorable and a christian man. I have e-mailed to Mr. Dan at your bank but he does not respond to me.

Harri, I've been thinking about the things that you have said to me about my life. You've inspired me to try and do something else with my life. I'm thinking of getting into selling used cars as a job. What do you think? They boys tell me that they think I would make a good car salesman. Would you buy a used car from me if I did this?

Love,
Marie
Harri,
How are you my love? Everything is fine I hope. I checked with my banker on Friday and still no money? What is happening on your end?

I have some great news. I'm surprised that I even have time to write to you. Late last week, I had a customer at the Lace Nightclub who I went home with to do the dirty deed. It turned out that we had such a great time together that he now wants to hire me as his regular girl. He's going to pay me $10,000 per month to only work for him. Wow! I am so excited. Now, I only have to worry about keeping him pleased and coming up with new tricks and techniques to keep my boy happy in the bedroom. That's my job. So, I will soon be very wealthy and I won't have to sleep with different men and women every day and every night like I used to have to do. What a relief that is!

My new boyfriend is very rich. He is a NBA basketball player here in the U.S. He has a mansion, servants, about twenty cars, a pool, horses, and all the good stuff. I had a friend take a picture of the two of us. We make quite a pair. My boyfriend, Shaq, is about 7 foot tall and I'm 5 foot and 4 inches. People stare at us when we're together! I can't tell if they're looking at me or him.

I told Shaq about you you and your family and he seemed very concerned. He said he was sure that he could find a house and a job for you and your family if you decided to come over to the U.S.

So, Harri, my dreams have come true. I hope that your dreams come true too honey! I have come to love you so much that I can only think of you as my own true son. Your brothers here long for the day where they can have you in their lives.

Bye bye for now,
Marie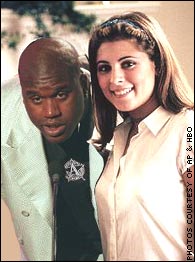 A Very Handsome Couple, Shaq and Marie
(Harri plays sick to get Mummi's attention)
Mummy,
Good morning today.
please mummy i have been sick here since saturday till now and i have not taken any good medication and my mother and sister had nothing with them please i managed to go to the bank this morning and i meet the manager of the bank he said that he want's to talk to you first on phone and he asked me this morning to give him your direct phone number and i told him i will try and bring it today please send it today so that i can give to him mummy
i want to as you for one favour please i need some money to buy some drugs today can you send to me please don't see it as a disturbance ok. send with my name below.
Harrison Kabba.
Rue 12 de Abobote Abidjan Cote d'Ivoire.
please mummy i rely on you i can't talk say much as i am feeling cold here i need to go and lay down and cover myself with bedsheet .

thank you mumy hope to hear from you,
Harrison.
Harri,
Please...I have five boys and they don't whine half as much as you do. Get a grip young man! What I usually do when I get sick with the HIV is to drink a shot of whiskey and then take a hot bath right away. That usually gets me going again.

I haven't got my first paycheck yet, but when I do I'll send you some money. Then you can buy some things. Shaq is taking real good care of me. He spends lots of money on me and give me lots of attention. Of course, he expects a lot of SEX from me in return. You can't believe what an appetite that boy has. It just seems like he can never get enough of me.

Hope you get well Harri. Remember about the cure I told you. Hey, what about that banker of yours. Is he a flake or something? I really don't want to deal with him if all he does is ignore me. I suggest that you get yourself another banker man.

Love and Kisses,
Your Mummi, Marie
Mummy,
Good morning today i managed to come and check our mail box this morning and i supposed to go to the bank today to see the manager but i can't go there i am down ok.i need medical checkup of .please mummy don't you have any phone so that the manager can speak to you because he has been asking about your phone that he need to talk to you.please mum i really need your help can you send the little money to me today because i need to get better quick because a man don't need to be sick because i need to be going to the bank every time to know what is happpening .
i will be happy to hear from you again today.
Harrison.
Dearest Harri,
You don't sound good. Do you have the HIV or maybe the AIDS? Did your take the whiskey and hot bath cure that I told you about?

I don't have a long distance phone at my house but I tried to call your banker man from Shaq's house today. He didn't know I was calling but I did anyway. Anyway, the number was busy every time I tried to call. Damn him. What kind of hours does he keep anyway? I don't think he is a good businessman. You really need to think about getting a new banker. My banker, Mr. PeeWee Herman, is always available when I call him.

Maybe I could get Shaq to send you an autograph. Are you a basketball fan? Everyone loves Shaq here in America. Shaq says he doesn't believe that you really exist. He says I am just making up this story to make him feel sorry for you and your family. But I told him that I could prove to him that you are real and like my son. He said that you should send us a picture of you, Harrison, holding a paper that says, "I am Shaq and Marie's #1 fan". He said he would only believe us if you sent me this picture by e-mail. He's a very stubborn boy sometime, but I would like to get him to help you out. He's got lots of money son, more than I could every imagine. Hopefully he can share some of this with you.

I am living like a princess when I am with him. We only eat at the finest restaurants, or he has his own personal chefs and waiters at home. The man eats like a pig! You can't believe how much he eats. He weighs like 340 lbs.

You know I was just thinking, I really should check on the boys. I haven't been home in three days now. I better go so I can call them now and see what they're doing. Hopefully they aren't holding up liquor stores!

Bye bye,
Marie and Shaq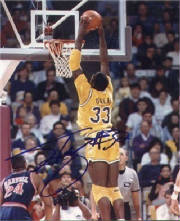 Shaq Autographed A Pic Just for Harri
(Harri gets a little testy with us)
Mummy,
Good morningb today .you are not helping my family you are just playing with us my mother said we should forget about you and look for somebody that is serious to help us .becxause you are sounding as if you have some hinding intension (what the hell is that?) against us . even the little money i asked you to send for me to get myself some medication you refused no problem we will see somebody who can be off a great help to us .my mother is praying very hard for that .
bye,
Harrison.
Harri,
Why are you so mean to me? Is is because you are sick? I wish I could help with just more than my home cures. Please understand that I would send you money if I had some. I don't get paid until the end of the month. Meanwhile, I just live with Shaq and he has all the money, not me. If I had money of my own I would share it with you.

Maybe I could steal some money from Shaq, but I wouldn't do that unless you thought it would be okay. Should I? He's always leaving cash and credit cards laying around. Let me know if you want me to do this.

Meanwhile, I am staying at Shaq's mansion and doing everything I can to help keep him happy. The new basketball season will be starting soon. He is good to me. Please be happy for me Harri. Shaq could be your daddy some day just like I'm your mummi. If you are good to him and he likes you, he will be very generous and take very good care of you just like he takes care of me.

Love,
Your Mummi, Marie