ATTN:CEO/PRESIDENT
Dear
Following the sudden death of my father General Sani Abacha the late former head of state of Nigeria in August 1998, I have been thrown into a state of utter confusion, frustration and hopelessness by the present civilian administration, I have been subjected to physical and psychological torture by the security agents in the country. My brother is still under detention arraigned before the federal high court of Nigeria for an offernce he did not commit. that is so traumatized,I have lost confidence with anybody within the country. You must have heard over the media reports and the internet on the recovery of various huge sums of money deposited by my father in different security firms abroad, some companies willingly give up their secrets and disclosed our money confidently lodged there or many out right blackmail.
I got your contacts through my personal research,and out of desperation decided to reach you.I will give you more information as to this regard as soon as you reply. I repose great confidence in you hence my approach to you due to security network placed on my day affairs I cannot afford to visit the embassy so that is why I decided to contact you and I hope you will not betray my confidence in you. I have deposited the sum of $45. million dollars with a security firm abroad whose name is with held for now until we open communication.
I shall be grateful if you could receive this fund into your account for safe keeping. This arrangement is known to you and my Lawyer alone, so my Lawyer will deal directly with you as security is up my whole being.I am seriously considering to settle down abroad in a friendly atmosphere like yours as soon as this fund get into your account so that I can start all over again if only you wish, but if it is impossible,just help me indiverting this fund into your account which will accrue you 30% of this fund . Please honesty is the watch word in this transaction.
I will require your telephone and fax numbers so that we can commence communication immediately and I will give you a more detailed picture of things. In case you dont accept please do not let me out to the security as I am giving you this information in total trust and confidence.
I will greatly appreciate if you accept my proposal in good faith.Please expedite action.
Sincerely yours
Haji Aliu Abacha
Dear Haji Aliu,
I have met your mother Mariam and I am aware of your family's situation. I know about your brother still being in jail. It is so sad to see the family of an honest hard working despot to be in such difficulty. I am already in the process of assisting Mariam, in fact I may even be flying over for a visit, but I am somewhat confused. Is this the same bank account that I'm already helping her with? Are you in contact with your mother. If so, let her know that you and I are in contact. Tell her Donny said, "hey". Mariam sent me a picture of herself with two daughters. One of them must be you! In fact both the daughters were beautiful. Are you married or single? Let me know if you'd like to exchange pictures.
Love,
Donny Osmond
Date: Fri, 30 Jul 2004 16:24:36 +0100 (BST)
From: "aliu abacha" <
aliuabacha2003@yahoo.co.uk
>
Subject: dear love donny
To: "Donny Osmond" <
theosmonds2000@yahoo.com
>
Dear Donny,
Thank you very much for your well understanding and god will bless you. you ask me if am married i am not infact i have been looking for some one who i will spend the rest of my life with. can you please send me the email address of my mother because i dont the present email of my mother for now.are you married please let me know if you have so we can talk.and also send me the bank account for verification
Love
Aliu Abacha
Dearest Aliu,
So nice to hear from you again. I hope that you and your family are doing well.
Yes! I am single also. Wow, let's chat some more, because maybe you are the one for me and I am the one for you. I am told by many that I am a very handsome man with nice teeth. I smile a lot and sing and dance for fun and for money. I have some money to take good care of my woman. What do you look like and what kinds of things do you like to do? Send me a picture.
Your mom's e-mail address is
mariam_a112@yahoo.com
. She's a very lovely lady.
Love Donny Osmond
DEAR DONNY,
YOU ARE A HANDSOME MAN (good, no question about the prison background!) THAT EVERY WOMAN WILL PRAY FOR AND I MUST CONFESS THAT OWNS WE ARE THROUGH IN TRANSACTION,I WILL BE THE FIRST PERSON YOU WILL SEE.MY DEAR DONNY PLEASE SEND ME THE BANK ACCOUNT FOR VERIFICATION ME TO GIVE YOU THE NEW ACCOUNT THA MY MOTHER IS USING FOR NOW BECUESE THE FORMER ACCOUNT NUMBER HAS BEEN CHANGED. AND I TOLD MY MOTHER ABOUT YOU AND SHE SAYS THAT YOU ARE A NISE MAN AND ME SEYING YOUR PICTURE I BELIVE THAT.
AND PLEASE MY LOVE,THIS WILL BE OUR CODE WARD(HONNY)
I WANT YOU TO STOP RICEVING ANY MAIL WITHOUT THIS CODE WARD HONNY IN THE SUBJECT.OR ANY PHONE CALLS WITHOUT HONNY FIRST BEFORE SPEAKING.MY LOVE I WILL LIKE TO HAVE YOUR PERSONAL PHONE NUMBER SO THAT YOU CAN BE HAERING MY VOICE.BYE AND GOD BLESS.
YOURS LOVELY,
WIFE TO BE ALIU
Hello Aliu,
I was very pleased and excited to get your reply. I am very intrigued by the idea of seeing you and being with you. Can you believe that we actually met as soul mates on the Internet? It makes me want to hold you in my massive muscular arms and up close to my rippling hard chest. I'll sweep you off your feet and treat you like the princess that you are. Honny, I want to please you like no man has ever before.
I will get the information that you asked me for, once I collect some paperwork. What account are you referring to? I have many different accounts. Are you talking about the account that Mariam and I are working on? I'll ask her if that's okay if we share it with you.
I'm sending you a family picture that Mariam sent me. Is that you on the left or on the right? All the Abacha women are beautiful! Send me a recent picture please. I am so in love with you Honny the way that you talk anyway, and I can't wait to see you.
Love,
Donny Osmond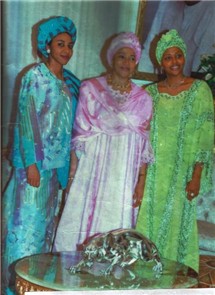 Which Will It Be? Bachelorette #1, #2, or #3.
(And.......It's Bachelorette #1! She can be all mine for the low, low price of only $4700)
DEAR DONNY,
HOW ARE YOU TODAY. MY LOVE I DONT WANT YOU TO ASK MY MOTHER OF ANY ACCOUNT NUMBER THAT WAS WHY I TOLD YOU NOT TO RECIEVE ANY MAIL EXCEPT MY MAIL MY LOVE.PLEASE DONT ASK MY MOTHER OF ANYTHING OK AND DONT RECEIVE ANY MAIL EXCEPT MY AND DONT FORGET THE CODE WARD HONNY.
HOW I WHICH I AM WITH YOU OVER THERE SO THAT WE CAN KNOW WERE TO START FROM I MEAN PLANING FOR MARRIAGE.
CAN YOU PLEASE SEND ME SOME MONEY SO I CAN COME OVER TO YOUR COUNTRY BECAUSE I AM REALY IN LOVE FOR SEEYING YOUR PICTURE.I AM THE WON AT THE LETT HAND SIDE.
PLEASE BE FAST ABOUT IT SO I CAN COME OVER. I NEED JUST $4700 TO COME OVER.
PLEASE REPLY ME SO I CAN TELL YOU HOW TO SEND THE MONEY MY LOVE.
PLEASE DONT RECEIVE ANY MAIL ECEPT MY MAIL HONNY.
YOUR LOVELY WIFE TO BE,
ALIU.
Hello Honny Aliu,
You are definitely the most beautiful of all the Abacha women! I just can't believe that you aren't already married. Thank you so much for responding and letting me know that you really, truly are in love with me. I can't wait until we can be with each other.

I only have one little problem. Mariam is telling me not to get involved with you. Did the two of you have a fight or something? She says that I should not trust you. I don't know what to do. I've already told Mariam that I would fly over to Nigeria to help her with the banking stuff. I am planning the first part of September.

So, I was thinking that rather than having you fly over here to Utah all by yourself, that I would stop by after I'm done dealing with Mariam and then we could fly back together. How does that sound? It may even give you and your mamma a chance to patch things up and mend old broken fences if you know what I mean.

I must also ask you a rather delicate question. Mariam has hinted to me a few times that she would like a relationship with me. She has sent me some e-mails and pictures that tell me that she is interested in me as more than just a banking partner. Do you think that she is trying to make a move on me. If it comes down to it, I think that you and I have much more in common as far as age and good looks and so forth. But I thought that you should know so that just in case you see her flirting with me and so forth that I'm not really all that interested in her, except for her money. It's just a business thing between us. Okay?

Aliu, I am so in love with you and my heart aches to be with you. I must see a current picture. Make it sexy if you can my love!

Love,
Your Honny, Donny
Dear Donny Osmond,
How are you today my love,i cant wait to see your face. I am truely in love that i cant control my self any more.
please, ask how you are going to send the money so that i can come over to you,and let me have your home address so i can locate your place.
And please dont listeing to my mother becuase of the love you have for me.i am realy crazy for you any time i looked at your picture.please my love without this code ward (honny)dont listeing to anymail ok.
with love,
aliu abacha.
DEAR DONNY,
MY LOVE,I MOST TELL YOU THIS BECUASE OF THE LOVE I HAVE FOR YOU,THERE IS A SECRET I WILL REVEALETO YOU BETWEEN ME AND MY MOTHER ONCE I COME TO YOUR COUNTRY.
PLEASE MY LOVE DO SOMETHING SO THAT I CAN COME TO YOUR COUNTRY.
I WILL ALWAYS LOVE YOU.
MISS ALIU
Dear Honny Aliu,
Your love is driving me crazy. I must have you Aliu! I must have you Aliu! I'm going to write a song about you and sing it to the whole world.
Hey There Aliu Girl
by Donny Osmond

Hey there, lonely girl
Aliu girl
Let me make your broken heart like new
Hey there, lonely girl
Aliu girl
Don't you know this lonely boy loves you
Ever since he broke your heart
you seem so lost each time you pass my way
Oh, how I long to take your hand
and say don't cry, I'll kiss your tears away
Hey there, lonely girl
My Aliu girl
Let me make your broken heart like new
Hey there, lonely girl
My Aliu girl
Don't you know this lonely boy loves you
You think that only his two lips
can kiss your lips and make your heart stand still
But once you're in my arms you'll see
no one can kiss your lips the way I will
The way I will
Hey there, lonely girl
Aliu girl
Let me make your broken heart like new
Hey there, lonely girl
Aliu girl
Don't you know this lonely boy loves you
Don't you know this lonely boy loves you
Hey there, lonely girl
My Aliu girl
Don't you know this lonely boy loves you

I'd love to hear your secret about Mariam, tell me please. I won't say anything to her.

Before we even met, I had made arrangements with Mariam to come to Nigeria and bought tickets to come over in September. So I'll come and get you then and we'll come back to America, where I'll make you my bride. Hopefully you'll meet me at the airport when I arrive and we'll go and get a hotel room right away. What do you say baby!

I'll take care of business with Mariam and then we'll have lots of money and can live together like a king and queen. She's just asking me to pay attorney fees to get $10 million for myself (I mean us). Hopefully Mariam won't try and make me sleep with her first to get the money. You don't think she'd do that do you? I get kind of creeped out when she keeps making little sexy comments to me, saying she loves me and all. Said she wants me to marry her. Is she nuts? Did you know that she sent me a naked picture of herself. All I can say, is that it must have been taken when she was young because the picture was so hot that I couldn't help but send her some money. So that's it. I'm just after her money, not her body, so you don't have to worry.

Love,
Your Honny Boy,
Donny
DEAR DONNY,
MY LOVE,I DONT THINK YOU LOVE ME BECUASE IF YOU DO LOVE ME AND READY TO MARRY ME,YOU WILL ASK HOW YOU ARE GOING TO SEND ME THE MONEY SO I CAN COME OVER TO YOU. I MEAN I AM SO CRAZY THAT I CANT CONTROL MY SELF ANY MORE I TOLD YOU I AM TIED OF STAYING LONELY AND YOU DONT WANT TO DO SOMETHING ABOUT IT IS NOT FEAR MY LOVE PLEASE LET ME COME TO YOU IN THREE DAYS TIME FOR I CANT BEAR MY SELF ANY LONGER PLEASE HONNY PLEASE.
I WILL ALWAYS LOVE YOU.
TO THE WON I LOVE MOST . PLEASE ASK ME HOW YOU ARE GOING TO SEND THE MONEY MY LOVE. BYE AND GOD BLESS.
REGARDS,
ALIU.
Dear Honny Aliu,
I'm glad you like my song. I wrote it just for you. I'm going to make a record of it and maybe it will be a big international #1 hit. I used to be a very popular singer in America, but not so much anymore. Maybe you will be my new muse and I will be inspired to write the most awesome songs in the world. I will be bigger than Madonna, Michael Jackson or even P. Diddy. What kind of music do you listen to? I want to dance with you!

My love, we must be patient to consumate our love. I am very afraid for you to fly here to Utah alone. You are a very beautiful woman and I'm sure that there would be many American men who would try and steal you away from me. So, I am coming to escort you to America myself. It's only four weeks away. I will send you the travel information about dates and time later. We'll have some time together in Nigeria and you can introduce me to your family and friends and let them know that we are going to be married. Perhaps we can even have a ceremony in Nigeria. Are you in Lagos? In Nigeria, is it okay for unmarried couples to share the same bed or must we wait until we are married?

Love,
Donny
Dear Donny Osmond,
my love i have hard all you said my love,can you please send me any money so that i can be keeping my self in order until you come to nigeria to pick me up my dear,mail me so that i can tell you how to send the money the money to me.
good bye my love and god bless you.
from your lovly won,
aliu
My Aliu,
We will be together very soon. Can send you some money until then? How should I send, Western Union or in U.S. Dollars? Whatever is best there in good old Nigeria.

But we must trade first. You send me a picture and I'll send you the money honny! The sexier the picture you send, the more money I will send to you. So surprise me baby doll! Do something in the picture so that I will know it is you. I will reward you now and then later when we meet in Nigeria!

Love,
Honny Donny
HOW ARE YOU MY LOVE,I HAVE DONE AS YOU I EVEN IT INCLUDE MY FATHER AND MOTHER.ARE YOU SATISFEID FOR NOW.
MY LOVE PLEASE DO SO IF YOU KNOW YOU LOVE ME.
I WILL BE WAITING FOR YOUR REPLY.
YOURS LOVELY,
ALIU.
(No picture attached)
Aliu Honny,
My heart is broken. The picture did not come across, only some words. Please re-send so that my heart might heal. I'm sending a new picture of me.

Love,
Donny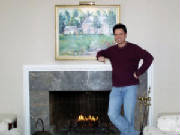 Donny by the Fireplace
DEAR DONNY,
HOW ARE YOU TODAY HOPE ALL IS WELL,I DONT UNDERSTAND YOU PLEASE TELL ME IF YOU ARE NOT INTRESTED SO THAT I CAN LOOK FOR SOMEONE ELSE A LOT OF MEN HAVE BEEN COMING TO ME FOR MY HANDS IN MARIAGE.
REGARDS,
ALIU.
Dearest Aliu,
I am so glad that you wrote. I've been meaning to tell you something. I've met somebody else here in Utah. Her name is Marie and she has now taken over my every thought and every move. I have asked her to marry me. She is a Mormon like me, so we go to church together and plan to have a large family together.

Although I do love you and wanted to marry you, there are some things that Marie gives me that you cannot. I was not experienced before this but I have counted twelve different positions that we have done it in so far and we plan to try even more. So far my favorite is the good old missionary position. Marie has big silicon implant boobs that are 38 DD. They just drive me wild. She dances at a strip club here. Can you believe that? So, you see what you are up against for competition. I really have no choice. A fantasy woman in Nigeria versus the real deal here in Utah. I gotta go with Marie.

So, I'm sorry Honny Aliu. I've told Marie about you. She was jealous at first but I think she's getting over it. I told her that I still had a special place for you in my heart. She said okay but that she'd kill me if I ever had a relationship with you.

Love,
Your Honny Donny
(I was missing Aliu and sent her an e-card)
How many times I've thought about you today...<shows a rolling counter>. Honny, I can't make it without you. Marie is controlling me with her sex drive. I have to get away.
Donny"
I am feeling totally ignored by you. Are you going to let a little thing like Marie come between us. It's you that I really love, not her. I just get a little choo-chee choo-chee from her. That's all.

Do you still love me? Do you still want me as your husband?

Love and Suspense,
Donny
(Okay, we've pushed it pretty far, but one last ditch attempt to bring her back into the goof)
Aliu,
I will be coming to Lagos to meet with your mother Mariam on some business dealings that we have. I would love to see you. Maybe we can get together for an evening or two at my hotel for some wild monkey sex.

Here is my flight info:

Leave:
Wed, Sep 1 Air France 11
Depart: 8:55pm New York, NY (JFK)
Arrive: 10:00am Paris, France (CDG)
Thu, Sep 2 Air France 854
Depart: 10:55am Paris, France (CDG)
Arrive: 4:15pm Lagos, Nigeria (LOS)

Return:
Tue, Sep 7 Air France 855
Depart: 10:50pm Lagos, Nigeria (LOS)
Arrive: 6:05am Paris, France (CDG)
Wed, Sep 8 Air France 22
Depart: 8:25am Paris, France (CDG)
Arrive: 10:15am New York, NY (JFK)

I'll be staying at the Sheraton, 30 Mobolaji Bank Anthony Way, Lagos, Nigeria. Come on over and I'll rock your world for you baby!

Love,
Donny Osmond
(okay, I'll try some more pleading)
Honny Aliu,
I am so sorry for what a bad man that I have been. I had a wild fling with a lady named Marie here in Utah. That's over now. We had fun but I no longer want to be with her. It is you that I want to be with.

Please give me one more try. I do still plan to be in your country soon. I would love to meet with you. Did you get my last e-mail with my travel plans.

Please contact me as soon as possible so that we can pick up where we left off.

Your one and only honny lover,
Donny
dear,
i got all your mails and aii your were fully absorbed with adequate feeling,honny, what really did you take me for , am not those type of ladies you can mees around with ,i want you to know tha t am from a royal family and very discipline home ,already you have a girl in your life.
we can be of a good friend, i give you a good connection and make happy when you come to nigeria. please dear send me some money for my shoping, i need to get some dress es for your arival.send it thrcugh westen union money transfer.$700,is okay.i need it before this weekend .
with love aliu
Dear Honny,
I am so glad that youi haven't forgotten me. I realized that I love you more than anyone or anything in this world. My advise to you is never to fall in love with a woman because of her big boobs. I met this woman Marie at a local strip club and we had a wild time together. I bought her jewelry and clothes and took her out to all the most expensive retaurants. After a week I had spent $5000 on her! Then she quit putting out for me saying she was tired all the time. So then I went to the strip club where she worked and found her lap dancing on another guy! So to hell with her!

I am so glad to hear that you are not a crazy big breasted American woman like Marie. I am ready to settle down with a good woman now. Will you be my honny? I think that I am fit for royalty. You don't mind that I'm a white guy do you? If you'll be my honey I'll treat you like the princess that you are and I'll also be your wild man in the bedroom.

I'm sending you some money by Western Union for shopping honny. Then you can buy something very cute and sexy for our visit.

Have you talked to your mom lately?

Love,
Donny Osmond
Date: Tue, 24 Aug 2004 17:55:52 +0100 (BST)
From: "aliu abacha" <aliuabacha2003@yahoo.co.uk>
Subject: Re: i still care
To: "Donny Osmond" <theosmonds2000@yahoo.com>
dear,
i got your mail thanks for your caring ,i want you to that am from a royal family , my mummy is fine ,what about your family, hope fine ,i will be expecting you around sept,so that you meet my family .thanks for the money you whant to send to me ,for my s
hopping, please send it through my secretary.

georgein. c . agetue and send me your contol number.through western union money transfer.
with love
aliu.
Dear Aliu,
I'm sorry that I am so slow to respond. I have been out on the road singing with my band in a 70's disco revival tour. You should have seen us with our wide bell bottom jeans, our platform shoes and our shirts with big lapels unbottoned halfway down! We were looking hot. I'll try and send you some pictures. The people loved us. I think my music career is starting to take off again! Did I tell you that I was very famous at one time in the 1970's in America for my music? I'm trying to make a comeback. And I would love to have you by my side when I do make it big again.

I want to send your secretary some money. I need to know what town you're in so that I know what Western Union office to send it to.

I hope that you're doing well. You are one hot and sexy lady. When I get over there I want to make hot wild and crazy disco love with you!

Please don't be upset with me or your mother, but I believe that your mother has romantic interests in me. Please trust me that it is not on my side. It is only you that I want. So I will need your help when I get over there to keep her hands off of me. She sounds like a very lonely old widow woman who just needs a little love and attention. I've given her attention by coming over to see her but I'm not giving up my love to anyone but YOU ALIU!

Your Hot Disco King,
Donny
Dear Donny Osmond
Thanks for your mail,i am pleased with your mail and i also understand your feeling of love ,i appreciate it and would want you to keep it on as i have the same feelings on you.
when you know me better you will also be too happy as i am intrested on a man with lovely feeling and i also must confess that i love you irrespective that we have not seen face to face but you words encouraged me as a man tha is caring.
thanks for agreeing to send to me the requested money through my secretary. i am now in lagos as i would want you to send the money now to my secretary.
i have extented your feeling to my mother and he also appreciate you into our family no matter she also has not seen you facialy.
i will be expecting the control number of the wetern union money transfer.
have a nice day
YOURS LOVELY
Aliu
Aliu,
Oh, my God. I can't believe that I'm home from Nigeria and that I can write to you again. I have been held as a hostage in Lagos for the past week. I didn't think they were going to let me out. I feel lucky just to be alive.
I had intended to hook up and spend some lovely time with you while I was there for meetings with Mariam Abacha, but I was never even able to get away.
You see, just after I got there, Mariam and two of her so called "brothers" came to meet me in the hotel room. I had brought a suitcase full of cash that we were going to use the pay the lawyers and the document fees, etc. that were involved with transferring the $16 million into my account (which by the way, I was going to share with you). We went to her attorney's office and then I was greeted by two mean looking customs agents. They said that I didn't have proper ID and passport. So, they arrested me and put me in jail. They let me call out on the phone, but only to arrange to have some money wired over for my bail and to pay some of the customs fees, etc. I also got some money to hire myself a lawyer over there. So, to make a long story short, after about a week sitting in a filthy jail with a cellmate named FiftyCent who kept staring at me, I was finally released.
As soon as I got out, I tried to call Mariam. Her phone was disconnected. She doesn't respond to my e-mails and there is no $16 million in my account. I desperately need to get in touch with her to find out what happened to her after I got arrested by the Customs Agents. Have you seen her or spoken to her? Can you get a message to her to call me? I just hope that she wasn't arrested along with me and still lingering in a jail cell somewhere.
I love you. I carry your picture with me whereever I go. I stared at it constantly while I was in jail and even whacked off a few times to it. I want to get that money from Mariam and start our life together here in the U.S. Can you send me a new picture, I got some stains on this one.
Please let me know how things are with your end.
Love,
Donny
P.S. Somehow the newspapers found out about my predicament in Nigeria and I was greeted at the airport by hundreds of fans of my music and the press. I even made the cover of People magazine. I scanned it for you. That's me in the lower left.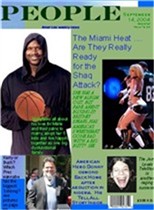 Donny On The Cover of People Magazine
Aliu,
My love, I have not heard from you. Did you get my last e-mail. I hope that you are okay and not sick or something. I need to hear from you very soon.

Love,
Donny
Repeated attempts to contact Donny's love Aliu were unresponded to. Bye bye sweet Aliu wherever you are!