CONTRACT #: MAV/NNPC/FGN/MIN/009,
Swift Code: BPH KPL PK,
A/C#: 329606=101244=169=678
website:cenbank.org
Dear,
From the records of outstanding contractors due for payment with the federal government of Nigeria your name and company was discovered as next on the list of the outstanding contractors who have not received their payments. I wish to inform you that your payment is being processed and will be released to youas soon as you respond to this letter. Also note that from my record in my file your outstanding contract payment is us $10million dollars (TEN MILLION united states dollars).
Please re-confirm to me if this is inline with what you have in your record and also re-confirm to me the followings
1) Your Full Name.
2) Phone, Fax And Mobile #.
3) Company Name, Position And Address.
4) Profession, Age And Marital Status.
5) Copy Of Int'l Passport.
As soon as this information?s are received, your payment will be made to you in a certified bank draft or wired to your bank account directly from central bank of Nigeria and a copy will be given to you for you to take to your bank and confirm it. You must call me on my direct number as soon as you receive this letter for a serious discussion with me
PROF CHARLES SOLUDO.
Executive Governor, Central Bank Of Nigeria
NOTE:RESPONSE SHOULD BE MADE ON THIS EMAIL
EMAIL:centralbank_org@jumpy.it
Kind Sir,
Thank you very much for the information. I would be an honor and priviledge to do the business to you.

1) Your Full Name. DONALD K. OSMOND
2) Phone, Fax And Mobile #. Phone is Temporarily Out of Service Until I Pay My Bill, FAX 1(661)885-4826
3) Company Name, Position And Address. ONEBADAPPLE STUDIOS,
4) Profession, Age And Marital Status. JANITOR AND SINGER, 44 YEARS, MARRAIGE NOT VERY GOOD AT THIS TIME.
5) Copy Of Int'l Passport. DO NOT HAVE, WILL ATTACH DRIVERS LICENSE

Sincerely,
Donny Osmond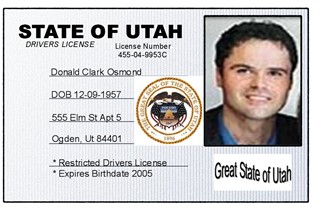 Handsome Mug on the Drivers License
ATTN DONNY OSMOND.
THANK YOU FOR YOUR INFORMATION, MEANWHILE, AFTER OUR MEETING LATER TODAY,WITH THE PRESIDENCY AND THE MINISTRY OF FINANCE IN CONJUCTION WITH THE UNITED NATIONS, WE RESORVED ON CASH DIPLOMATIC DELIVERY WHICH BY APPLICATION A UN DIPLOMAT WILL BE ASSIGNED WITH THE DELIVERY TO YOUR DOOR STEP.
UNDER THIS ARRENGEMENT, YOU HAVE TO PROVIDE YOUR RESIDENTIAL ADDRESS TO ENABLE THIS POLICY TO BE COMPLETED. HOWEVER, THE GOVERNMENT OF NIGERIA WILL TAKE CARE OF THE LOCAL EXPENCES ON THE SHIPPMENT AND AS SOON AS THE CONSIGNMENT ARRIVES TO UNITED STATES, YOU WILL BE EXPECTED TO CARE FOR THE DELIVERY EXPENCES, THE CONSIGNMENT HAS TO BE IMUNISED FROM CUSTOM INSPECTION SO YOU WILL BE CONTACTED BY THE DIPLOMAT ON TELEPHONE IMMEDIATELY HE ARRIVES THE AIRPORT. FOR MORE INFORMATION CALL ME ON MY OFFICIAL DIRECT LINE #234-8034710615.ATTARCH A COPY OF YOUR DRIVING LINCENCE VIA THE EMAIL IMMEDIATELY.
I EXPECT YOUR URGENT RESPONSE.
THANKS
YOURS SINCERELY
PROFF. CHARLES SOLUDO
CBN.
Dear Professor,
I hope that you and your wife and family are doing just super duper. I am so excited to get the money. I have told everyone and we are just partying already. If I get approved I'm going to have one huge party this weekend and invite all my friends and family.

So, did the president and the minister of finance approve of me? Should I write them an e-mail to get them to like me? I tried to call today but your line was busy. What are your hours anyway? Nice website dude. I read about your bank and even read one of your excellent speeches. I would like to open up an account with your bank. I tried to call the main number, but I guess the time zones are different.

I'm attarching my drivers license again. You can send the money to my home address at: 555 Elm St, Apt 5, Ogden UT 84401. I hope that's all you need.

My regards to you and the little missus and the kids.

Donny Osmond

P.S. My third grade teacher told me that friends don't let friends misspell. You spelled "arrengment" but it's "arrangement". You spelled "lincence" and it's "license". No offense dude.
Professor Charles,
Did the president and ministry of finance accept me? I have not heard from you. I am very worried dude. Is there a problem. I really hope not. What can I do to prove to them that I am trustworthy and capable of handling this transaction.

Sincerely,
Donny Osmond
ATTN MR DANNY OSMOND
FOLLOWING OUR CRUCIAL MEETING EARLY TODAY BEEN 11TH OCT. 2004. THE FEDERAL GOVERNMENT OF NIGERIA IN CONJUCTION WITH THE UNITED NATIONS ORGERNISATION HAS AS MATTER OF FACT CONCLUDED A JOINT ARRANGMENT ON NIGERIAN FOREIGN CONTRACT PAYMENT TO SPEEDY UP (Speedy Up.....Don't Ya Love It!) ITS PLANS ON DEBT REDUCTION WHICH CONTRACT DEBT FORMS THE PRIORITY. UNDER THIS DEVELOPMENT YOU ARE ADVISED TO SEND YOUR CONTACT ADDRESS AS OUR PAYMENT SYSTEM HAS TAKEN ANOTHER DIMENSION. ON THIS NEW ARRENGMENT, YOUR CONTRACT FUND WILL BE DELIVERED TO YOU ON YOUR DOOR STEP. UN DIPLOMAT WILL BE INCHARGE OF THE DELIVERY FROM NIGERIA THROUGH OCENIC FINANCE COMPANY NIGERIA. THE CENTRAL BANK OF NIGERIA WILL DEPOSIT THE MONEY TO OCENIC FINANCE COMPANY WHERE THE DIPLOMAT HAS TO DO THE PACKAGING ARRANGMENT .YOU ARE NOT EXPECTED TO INCURE ANY EXPENCES LOCALLY IN NIGERIA, EVERY EXPENCES HERE HAS TO BE TAKEN CARE BY ME. HOWEVER, THIS DECISION WAS TAKEN AS A RESULT OF OUR PAST EXPRIENCES IN ACCOUNT FULSIFICATIONS AND ILLEGAL DIVERSIONS OF CONTRACT PAYMENTS. THE DIPLOMAT WILL HAVE TO CONTACT YOU ON ARRIVING USA FOR THE DELIVERY OF THE CONSIGNMENT TO YOU.EVERY MEASURES MUST BE TAKEN TO ENSURE THAT THE FUND GET TO YOU SAFELY. WE THANK YOU FOR YOUR UNDERSTANDING AND CO-OPERATION WHILE WE EXPECT YOUR URGENT RESPONSE.
THANKS
YOURS SINCERELY
PROFF. CHARLES SOLUDO
GOVERNOR:CBN.
Governor,
I am very concerned at this point that this is a professional dealing. You have addressed my e-mail as Mr. Danny Osmond. My name is Donny. I am not sure that you are paying proper attention to details which are so important if we are going to conduct a transaction of this importance. Are you not getting enough rest these days?

I will continue cooperation with you but, please at least remember my name. Here is my contact information. I will be out of town on business for four days but I will be looking for more information upon my return. I want to know exactly when and how these funds will be delivered.

Donald Clark Osmond (my full legal name)
555 Elm St, Apt 5
Ogden UT 84401
FAX 1 (661) 885-4826

Thank you Governor and I am looking forward to conducting business with you.

Sincerely,
Donny Osmond
Attn Mr Donny Osmond

After meeting with the diplomat and the manager of Ocenic Finance Company where the fund was lodged. You are required to take care of the Yello tag fee otherwise known as imunity fee which has to exempt the consignment from custom inspection on arrival to America. The cost of the Yello tag shall be made known to you after necessary inquiries .The payment has to be made to the diplomat on arrival to the united states with the consignment(fund).At this jucture, you are expected to be in good communication with me for futher guidance.
I shall inform you when the diplomat is likely to leave nigeria to meet with you in the United states, and has to contact you on arrival via telephone. We are not relenting effort in making sure that the fund leaves nigeria this week. an airway bill shall be sent to you incase you may be required to present it to the diplomat for claims. I strogly advise you to keep your cell phone intact as communication will be very important as soon as he arrives. We are making frank efforts to see that the diplomat leaves this week along with the consignment. I shall send to you a copy of the airway bill immediately he departs and you will be expected to present it on meeting with him. I expect your immediate response to this message.
I will appreciate you call me on my direct telephone line for more details.
thanks
yours sincerely
Proff. Charles soludo.
CENTRAL BANK OF NIGERIA.
(For some damn reason, the professor governor sends me the solicitation letter again. I won't re-print it, but it almost exactly the same but from a different e-mail address. They probably have an army of scammers working this fraud. They've got some explaining to do!)
Why are you sending this to me again?

Donny Osmond
Dear Governor,
I am confused. This is complicated What am I supposed to do now? Explain it to me like I am a third grade school girl so I can understand it.

Love,
Donny
You are not communicating with me. Is there a problem?

Donny Osmond
Attn Donny Osmond,
There is every indication that the diplomat will be leaving nigeria this week along with the consignment(fund). After our discussions yesterday with the necessary authorities, the cost of the yellow tag is $4500 usd only. This fee has to be available before the arrival of the diplomat to enable him secure the immunity at the airport on arrival. Under the arrangment, you will be contacted by him as soon as he arrives. I shall send the airway bill to you on conclusion of the shipment with the courrier company.
thanks for your co-operation.
Proff C. Soludo.
CBN
(Donny insists on a Purple Tag, Since Purple is his Favorite Color!)
Dear Professor Charles,
I have received your correspondence with great anticipation. I have not heard from you in about a week and I was very angry that you had not responded to my e-mails. I want some assurance that you are capable of handling this transaction! I expect a daily update on the progress of the courier, considering that we have $10 million dollars that we are exchanging. Do I make myself clear? And another thing, I am not sure about the color of the tag. Yellow is not my favorite color. Is there any chance that we can change the color to purple, which is my favorite color, since I'm going to be paying for the tag? Please let me know as soon as possible.

Anyway dude, how is your family and your pets? I hope that all are well. Please send my regard to the old lady and the kids. I will send them all presents upon successful completion of this transaction.

I want you to know that I have informed all of my family about you and your generous offer. You are now considered a very important and esteemed man in my community of Ogden Utah. The whole town is talking about you and your generous offer. Some people have told me that they do not believe that this is real and that you may be deceiving me. I told them, "oh yee of little faith, Professor Charles is real and loves all of us." So, I plan to donate much of the funds to my town. I will build a children's clinic to cure ADD/HD. Then I want to build an educational center so that men can learn the vocation of hip hop music recording. And then I will build a center for women to learn to art of hip hop dancing for the videos which we will play on MTV. I will donate to add on the to town library so that they can hold the great writings, pictures, and memorabilia of professor Charles Soludo. I have suggested to the mayor that we also erect a statue in your honor. Do you have a current photo that we can use to model the statue?

Professor, you are like a father to me and my family. We have never had anyone treat us with such respect and with such generosity. My own father only gave me an old wet blanket and a stalk of celery when I left home to go on my own. We have struggled to keep alive and feed our five boys. My wife, Marie says to say hello and thanks you. She says that she loves you and would like to see you sometime.

I am sending you a picture of me announcing your gift to the townfolk of Utah who all want to thank you and all want to meet you and bear your children.

Love,
Donny Osmond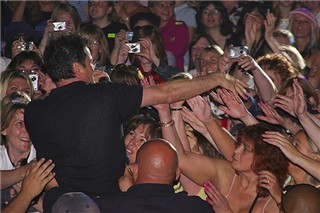 Donny Working the Crowd of Professor Charles Fans
(Professor will do a lot of things, but he won't do purple)
ATTN MR DONNY OSMOND
THANK YOU FOR YOUR COMMENDATIONS. HOWEVER, YOUR DEMAND FOR PUPPLE TAG IS NOT ON LINE WITH THE CONDITIONS GUILDING THIS PAYMENT IN ACCORDANCE TO THE UNITED NATIONS CHARTER ON DIPLOMATIC SHIPMENT.SECONDLY, IT IS VERY IMPORTANT YOU UNDERSTAND THE MEANING OF YELLOW TAG AS AN IMMUNITY TO SUCH CONSIGNMENT ON SHIPMENT. IT IS A DIPLOMATIC IMMUNITY WHICH EXEMPTS SUCH A CONSIGNMENT FROM CUSTORM HARASSMENT OR INSPECTION.THERE THE ISSUE OF YOUR CHOICE OF COLOR IS COMPLETELY OUT OF QUESTION. FINALLY, YOU HAVE TO BE PREPARED BEFORE THE ARRIVAL OF THE DIPLOMAT THIS WEEK SO AS TO ENEBLE HIM SECURE THE IMMUNITY ON HIS ARRIVAL AT THE AIRPORT. HE SHALL CONTACT YOU ON THIS AS SOON AS HE ARRIVES AND I URGE YOU TO EXHIBIT GOOD CO-OPERATION WITH HIM.THIS IS VERY IMPERATIVE FOR EFFECTIVE COMPLETION OF THIS TRANSACTION. ALREADY, HE IS PROPERLY INFORMED ON YOUR CONTACT INFORMATION. HIS NAME IS MR JIM FRANKLIN. I SHALL SEND TO YOU THE AIRWAY BILL DOCUMENT AS SOON AS THE CONSIGNMENT LEAVES NIGERIA IN CASE THE DIPLOMAT MAY DEMAND FOR IT AS AN IDENTIFICATION. I EXPECT YOUR URGENT RESPONSE TO THIS MESSAGE.
THANKS FOR YOUR CO-OPERATION.
YOURS SINCERELY
PROFF C. SOLUDO.
CBN.
ATTN MR DONNY OSMOND.
FROM ALL INDICATIONS AFTEROUR MEETING TODAY, VERY ARRANGMENT HAS BEEN CONCLUDED AND THE CONSIGNMENT IS DUE TO LEAVE NIGERIA TOMORROW. I ADVISE YOU TO BE PREPARED TO HEAR FROM THE DIPLOMAT AS SOON AS HE ARRIVES. I SHALL SEND THE AIRWAY BELL TO YOU BY TOMORROW. RESPOND TO ME IMMEDIATELY SO THAT I CAN KNOW YOUR POSITION.THERE IS EVERY NEED FOR YOU TO CO-OPERATE WITH HIM. HE IS JIM FRANKLIN BY NAME, HE IS FRIENDLY AND KIND HEARTED.
YOURS SINCERELY
PROFF. CHARLES SOLUDO.
CBN.
Dear Professor,
You are such a great man. The whole town of Ogden Utah is talking about you and how great and generous that you are. We are planning to have a parade and build a statue in your honor when the money arrives. Please send me a picture of yourself so that we can begin to model the statue.

I will be looking forward to the great diplomat Jim Franklin. We will welcome him with open arms. I only hope that he is not gay. We do not respect gay men in our country. Do you know if he is gay? We cannot tolerate a gay diplomate. And again, I will insist upon a Purple Tag on the luggage. Purple is my favorite color and it will certainly help me find diplomat Franklin in a crowd.

I will let you know when diplomat Franklin has arrived. As long as he is not a gay man, we will welcome him with hugs and kisses.

Love,
Donny Osmond
(Obviously he is gay!)
ATTN DONNY OSMOND,
I AM NOT SATISFIED OFFICIALLY WITH YOUR RESPONSE AND AS A MATTER OF FACT HAS SUSPENDED THE DELIVERY OF YOUR FUND UNTILL I AM QUITE CONVINCED OF YOUR PREPAREDNESS. I AM A MAN OF HIGH REPUTE SO I HAVE TO BE ACCOUNTABLE OF EVERY FINANCIAL TRANSACTION I CARRY OUT IN THE NAME OF THE FEDERAL GOVERNMENT OF NIGERIA.
THANK YOU.
PROFF. C. SOLUD
PROFESSOR!
I AM OUTRAGED! WHAT ARE YOU DOING! DO YOU HAVE ANY IDEA OF HOW MANY PEOPLE HERE IN OGDEN UTAH WERE ANTICIPATING THE DELIVERY OF THESE FUNDS TODAY! THERE MUST HAVE BEEN OVER A HUNDRED PEOPLE IN THE PARK AWAITING ME AND THE NEWS OF THE DELIVERY. THINK OF HOW DISSAPOINTED THEY WERE. I THOUGHT THAT YOU WERE PROFESSIONAL ENOUGH TO MAKE THIS HAPPEN IN A PROFESSIONAL AND DIGNIFIED MANNER. NOT IN SOME SOME SISSY GIRLY MAN FASHION. WHAT IS YOUR PROBLEM? DO I NEED TO COME OVER THERE AND GET THE MONEY MYSELF. IF I HAVE TO, I WILL. AND I'LL BE KICKING SOME BUTT AND TAKING SOME NAMES WHEN I DO.

I AM CONVINCED THAT YOU MUST BE GAY. OTHERWISE YOU WOULD NOT HAVE REJECTED OUR OR DEMANDS NOT TO SEND A GAY DIPLOMAT. DO YOU HAVE ANY IDEA HOW MUCH PEOPLE IN UTAH HATE GAYS? IF IT IS FOUND OUT THAT YOU ARE GAY OR YOUR DIPLOMAT IS GAY, THEN THE DEAL IS OFF! WELL, ARE YOU GAY OR NOT? IF YOU ARE NOT GAY, LET'S GET THIS THING GOING IN A HETROSEXUAL ONLY FASHION PLEASE.
GOOD DAY TO YOU SIR
DONNY OSMOND
Professor,
What is your plan now that you have let me and the towns people of Ogden down in our transaction? Please reply and let me know that you are serious and that this is not some sort demented, cruel and twisted joke!

Donny Osmond
Professor,
If I had known that you were going to screw me over, I would have never responded to your e-mail. At least you could have used some vaseline and then sent me some roses in the morning.

Donny
(Like a bloodthristy shark, the professor just comes back for more)
ATTN MR OSMOND DONNY.
AFTER DUE CONSIDERATION, THE CONSIGNMENT WILL BE DEPARTING BY TOMORROW TO ARRIVE USA. YOU HAVE TO BE PREPARED BEFORE THE ARRIVAL. THE NAME OF THE DIPLOMAT IS MR JIM FRANKLIN AND HE HAS TO CONTACT YOU ON ARRIVAL AT THE AIRPORT FOR THE NECESSARY CLEARANCE FROM THE CUSTORM.(DIPLOMATIC IMMUNITY).HOWEVER, I ADVISE YOU TO CONFIRM YOUR TELEPHONE NUMBER IMMEDIATELYAND NOT FAX NUMBER TO ENABLE HIM CONTACT YOU WITHOUT MUCH DIFFICULTIES. YOU HAVE TO BE IN CLOSE CONTACT WITH ME FOR PROPER INFORMATION AND FUTHER GUILDANCE. I SHALL SEND THE AIRWAY BILL TO YOU AS SOON AS THE DIPLOMAT DEPARTS.EXPECTING YOUR URGENT RESPONSE.
YOURS SINCERELY
PROFF.CHARLES SOLUDO
EXECUTIVE GOVERNOR:CBN
Professor,
Thank you for responding. I hope that you can fulfill your business obligations to me this time.

My contact information:
Donny Osmond
PHONE (801) 582-9181
(Payphone around the busy Student Union building at the University of Utah courtesy of
http://www.payphone-project.com
)
FAX (661) 885-4826 (our
www.efax.com
web based fax number)
I may be at work so if you call and my wife or one of my roommates answers, please leave a message. Otherwise, send me a fax message.
I look forward to hearing from the dashing and illustrious Jim Franklin and finally concluding this business deal. The town folk of Ogden lost a lot of faith in me when you backed out of our business deal last time, so please do not let me down this time.
With all of God's love,
Donny
(It appears our payphone info may be out of date)
ATTN MR DONNY OSMOND
I CANNOT GUARANTEE THE DEPARTURE OF THIS FUND BY TOMORROW UNLESS YOU SEND AN AUTHENTIC TELEPHONE FOR ME TO SPEAK WITH YOU. WE HAVE TO BE VERY STRICT IN OUR FINANCIAL MATTERS. THE NUMBER YOU GAVE TO ME IS DISCONNECT SO I CANT UNDERSTAND. YOU EITHER CORRECT IT NOW OR?
YOURS SINCERELY
PROFF C. SOLUDO.
Dear Professor,
My most sincere apology to you and your family. Unfortunately, my phone was temporarily disconnected since I was behind in paying my phone bill. But let me give you my brother's phone number. It is (801) 532-8378.

Please give me a call tomorrow. I'll be hanging out all day at my brother's house. We'll be barbequing and knocking back a few Buds in the backyard. So if you call, let the phone ring a bit so we can get to it back in the house.

Thanks Professor and I'll look forward to your glamorous intestinal emissions.

Love,
Donny and Family
ATTN DONNY OSMOND.
THE DIPLOMAT HAS LEFT THIS MORNING TO ARRIVE USA TOMORROW MORNING, BUT YOU STILL HAVE TO KEEP TO COMMUNICATION. I HAVE TRIED YOUR TELEPHONE NUMBER TODAY BUT IT RANG ALL THROUGH WITHOUT RESPONSE. FOR YOUR BEST INTEREST YOU HAVE TO MAKE SOME CORRECTIONS TO ENSURE SUCESSFUL DELIVERY. WE ARE NOT READY TO ENTERTAIN MISINFORMATION ELSE I CALL BACK THE FUND WITHOUT DELAY. YOU SHOULD UNDERSTAND THAT IT IS VIA TELEPHONE CONVERSATION THAT WILL ENABLE THE DIPLOMAT REACH YOU PROPERLY. I ADVISE YOU TO MORE COMMITTED ON THIS DEVELOPMENT OR I CANNOT AFFORD TO TAKE SUCH RISK OF KEEPING SUCH MONEY OFFSHORE WITHOUT CLAIMS. I AM IN CHARGE AND ACCOUNTABLE.
I EXPECT YOUR URGENT RESPONSE.
YOURS SINCERELY.
PROFF.C. SOLUDO.
CBN
Professor Governator Dude,
I am so sorry about today. Not catching the phone call and everything. Me and my brother got totally loaded and were like passed out in the back yard. Didn't even hear you when you called. I'm going to be over at my friends house tomorrow. Give me a call dude and we'll converse. Hopefully we'll connect up and line up the courier dude, Mr. Jim Franklin.

My friend's number is (801) 582-9089 (This is a payphone inside a bus terminal on the University of Utah where is always someone waiting on the bench for a bus). His kid's might answer, so just make sure and ask for Donny Osmond or leave a message with them so I can call you right back.

Hugs,
Donny
Professor Charles,
So, what's the plan man?

Donny
ATTN DONNY OSMOND.
HAVE YOU HEARED FROM MR JIM FRANKLIN? HE IS SUPPOSED TO BE IN THE UNITED STATES. I WONDER THE KIND OF TELEPHONE NUMBERS YOU ARE SENDING TO ME.
I NEED TO HEAR FROM YOU URGENTLY.
THANKS
PROFF. C SOLUDO
ATTN MR DONNY OSMOND
I WONDER WHY YOU HAVE BEEN KEEPING SILENT OVER MY MAILS TO YOU. HOPE YOU HAVE RECIEVED THE FUND FROM MR FRANKLIN.
I NEED AN UPDATE FROM YOU.
YOURS SINCERELY
PROFF C SOLUDO.
Hey Professor,
So how are Gillian, Ginger, MaryAnn, the Howells and the rest of the crew? No I haven't had any contact from that damned Jim Franklin. Someone called a few days ago and was just breathing heavily on the phone. Maybe that was him. I don't know.

So, is this how you conduct business? I've been waiting a very long time and I'm losing patience. I've actually been thinking about switching banks because this doesn't seem to be working to well. The Bank of Utah is promising me free checking and a MasterCharge card if I open an account with them. Can you top that?

I have been embarassed and shamed in my town of Ogden because I have told everyone in my town about the amazing and generous Professor Soludo and the dashing and debonair Jim Franklin.

Please conclude this business deal before I lose patience and before the good people of Ogden run me out of town for being a fraud. I have promised them all that I would share my riches with them. If I do, they will make me Mayor of Ogden for life. Please help me make my pathetic psychopathic dreams come true.

Donny Osmond
Professor,
Come on man! Please reply. My people are growing restless and you don't want to disappoint the good citizens of Ogden.

Donny
Screw you and screw Franklin the banker. I am going to take my banking business elsewhere. Somewhere where I am treated with respect, that's R-E-S-P-E-C-T sister! So goodbye to you and your little banking 419 scam.

Donny Osmond
(No response from Soludo. We obviously pushed it over the top, so time to put this one to bed)